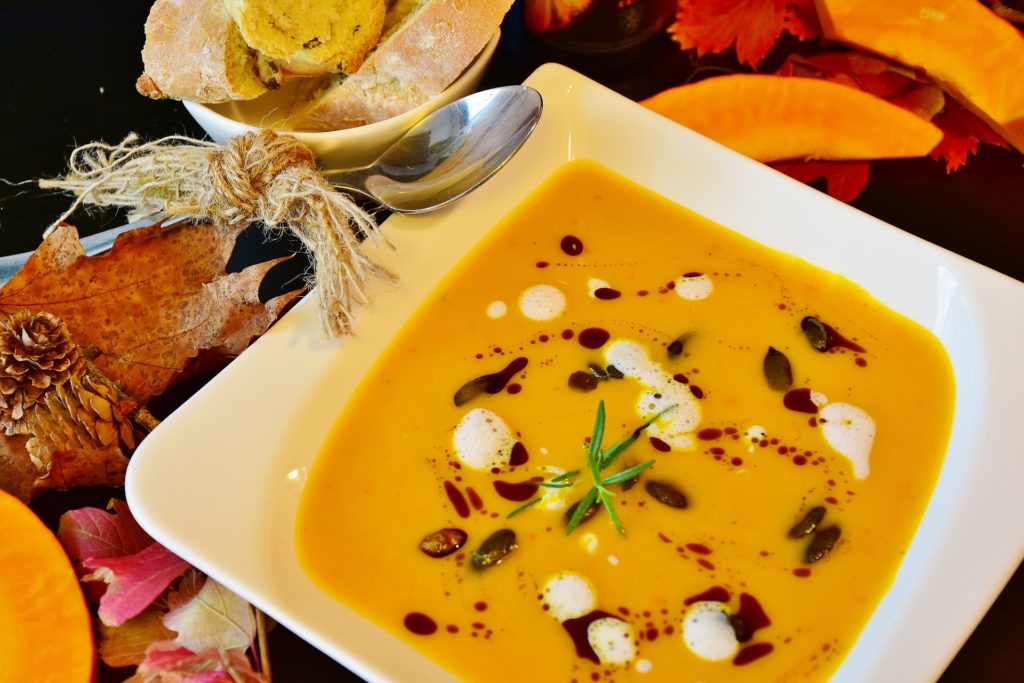 Ingredients
2 tomatoes
1 bulb of garlic
Half a celery stick
200g squash or pumpkin
Half an onion
80g Red Lentils
1 small handful of chopped coriander
½ tablespoon of lime juice
¼ tablespoon each of ground allspice, ground cumin and chilli powder
¼ tablespoon of curry powder
1 tablespoon of olive oil
750ml water
Préparation
This lightly spiced soup is both quick to make and packed with goodness. Your choice of vegetables can vary according to the season to make this a highly affordable dish.
This delicious winter warmer is even better when paired with crusty soda bread!
1. Wash the vegetables and lentils, then roughly chop the vegetables.
2. Heat 1 tablespoon of olive oil in a saucepan and add the vegetables (onion and garlic first) but not the tomato yet.
3. Gently sweat off all the vegetables for 10 minutes until nice and softened.
4. Add all of the spices and the tomato and continue to cook for a further 2 minutes.
5. Now add the lentils, followed by the water and bring to the boil.
6. Once boiling, reduce to a gentle simmer and cook for roughly 15 minutes or until the lentils and vegetables are nice and soft.
7. To finish add the coriander and lime juice and then serve chunky or blend for a smooth soup.
Publication date: 18 July 2019