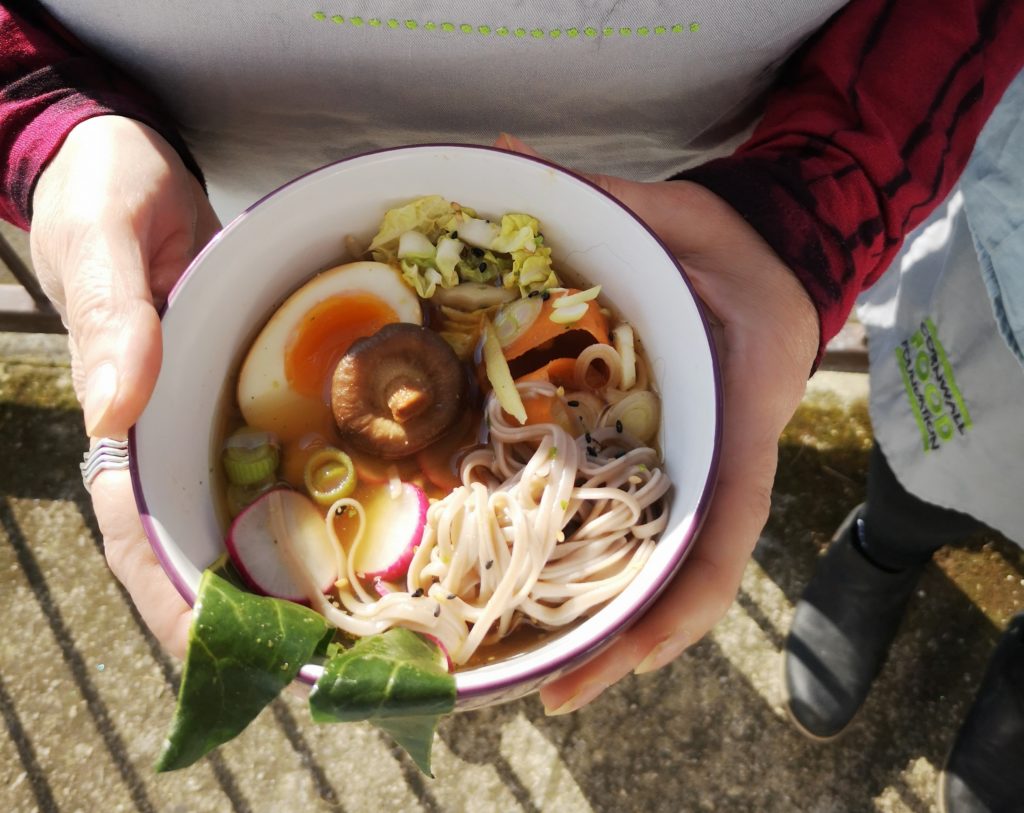 Ingredients
1 thumb-size piece of ginger (finely sliced)
2 garlic cloves
1 ½ tablespoon of white miso paste
15g of dried shiitake mushrooms
1 litre of vegetable stock
2 tablespoons of soy sauce
1 local free range egg
100g of soba or rice noodles
2 spring onions
2 beansprouts
½ carrot
2 radishes
½ red chili
Préparation
This ramen noodle soup is a fresh, yet filling, way to introduce more vegetarian meals into your life and cut down on meat. It's also quick to prepare, making cooking from home simpler.
Peel and finely slice the ginger, crush the garlic and add to a saucepan along with the vegetable stock, soy sauce, miso paste and shitake mushrooms. Bring to the boil and then reduce to a simmer for 5 minutes or until the ginger is soft.
Now strain the broth and pour into a separate saucepan. Retain the ginger and shitake mushrooms to add to the finished bowls of ramen.
Boil the eggs for 6 minutes and then cool under cold water. Once cooled peel the eggs, cut them in half and place to one side.
Cook the noodles as per the cooking instructions. Once cooked cool them down in cold water, leave them in the water to prevent them from sticking together.
Finely slice the spring onions, chilli and radish and place onto a plate. Using a peeler, cut ribbons from the carrot and place onto the plate.
To finish the dish heat the stock and arrange your bowl with the noodles, prepared vegetables, beansprouts, mushrooms and ginger.
Pour over the hot stock and enjoy.
Publication date: 29 March 2019