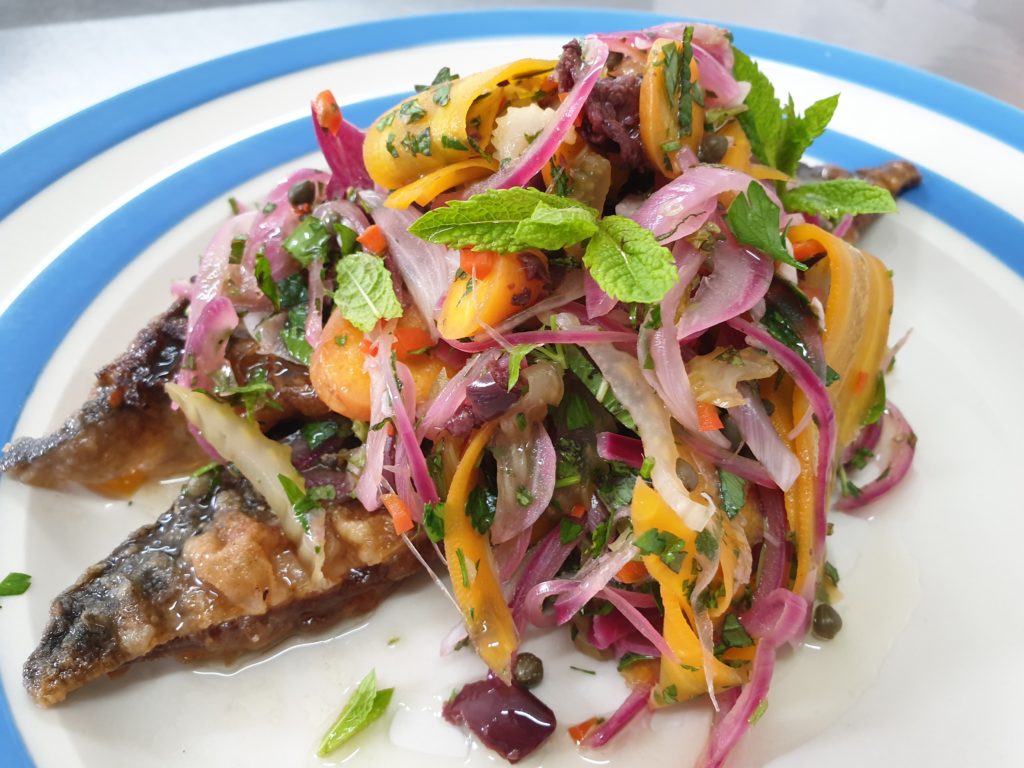 Ingredients
2 fillets of Cornish mackerel (or any local fish)
1 large red onion
2 cloves of garlic
1 stick of celery
3 tbsp of capers
6/10 black olives
1 large carrot
1 small bunch of parsley
1 small bunch of mint
2 tbsp of caster sugar
50g flour
200ml good quality red wine vinegar
100ml water
Préparation
Pesce in carpione is a classic Italian dish and it is a great way to cook, pickle and preserve fish with some lovely flavours. It's great as a starter or a main and is traditionally served chilled.
Start by seasoning the fish with salt and pepper and coat the skin side in flour.
Get a pan with a touch of olive oil to a high heat and place the fish skin-side down into the pan.
Cook it on the skin side until its 90% cooked through then turn it into a deep dish-skin side up.
For the pickling liquor put the red wine vinegar, water and sugar into a pan. Once boiling put on a slow simmer.
For the veggies, slice the red onion, shave the carrot with a peeler, chop the garlic and slice the celery.
Take the pickling liquor off of the heat.
Put all the veggies into the pickling liqueur with the capers and olives, leave them to sit in the hot liquid for five minutes.
Lastly, pour the veggies and liquor all over the fish and then throw the herbs all over it.
Leave to cool and serve. Delicious!
Publication date: 17 June 2019
This recipe is proposed for the commitment(s):
Choose local, seasonal and organic vegetables
Make your own meals