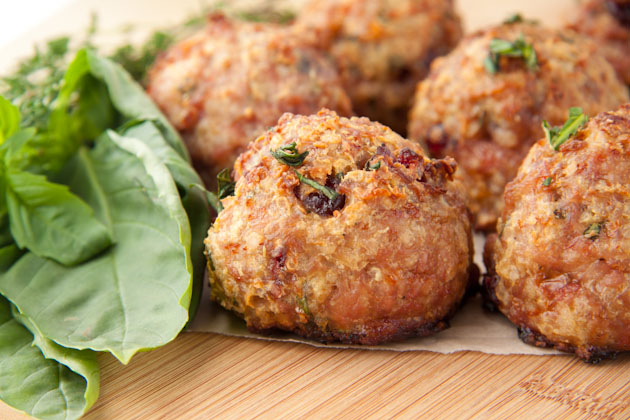 Ingredients
500g turkey mince
1 tbsp. dried cranberries (roughly chopped)
1 red chilli, finely diced
2 tsp fresh rosemary (finely chopped)
2 garlic cloves (minced)
3 eggs
2 tbsp. plain flour
250g breadcrumbs
Salt and pepper
Préparation
Looking for Christmas party food that everyone will devour?
Try our easy Christmas canapés recipes and Christmas nibbles for the best Christmas party food.
These little polpette are a lighter twist on a classic meatball pasta dish. These turkey meatballs use lean mince for a healthier family favourite.
Method
Place the minced turkey, cranberries, chilli, rosemary and garlic into a mixing bowl and mix well. Crack one egg into a bowl, beat and add to the mixing bowl along with 3 tbsp. breadcrumbs and some salt and pepper. Place into a fridge and leave to firm up in a fridge for 30 minutes.
Crack 2 eggs into a bowl and whisk. Place the flour into a bowl, season with a little salt and pepper and place to one side.
Roll the mix into small bite-sized balls and continue the process to use up all of the mix. Roll each ball into the flour, followed by the beaten egg and then finally the breadcrumbs. Continue this process until all of the polpettes are breaded.
Heat a large frying pan on a medium heat and add the olive oil. Cook the polpettes in batches for 10 minutes or until golden. Cut one polpette in half from each batch to ensure that they are properly cooked. These are delicious served with some chilli dipping sauce or festive chutney.
Publication date: 29 November 2019
This recipe is proposed for the commitment(s):
Don't waste bread
Make your own meals
Reduce your food waste