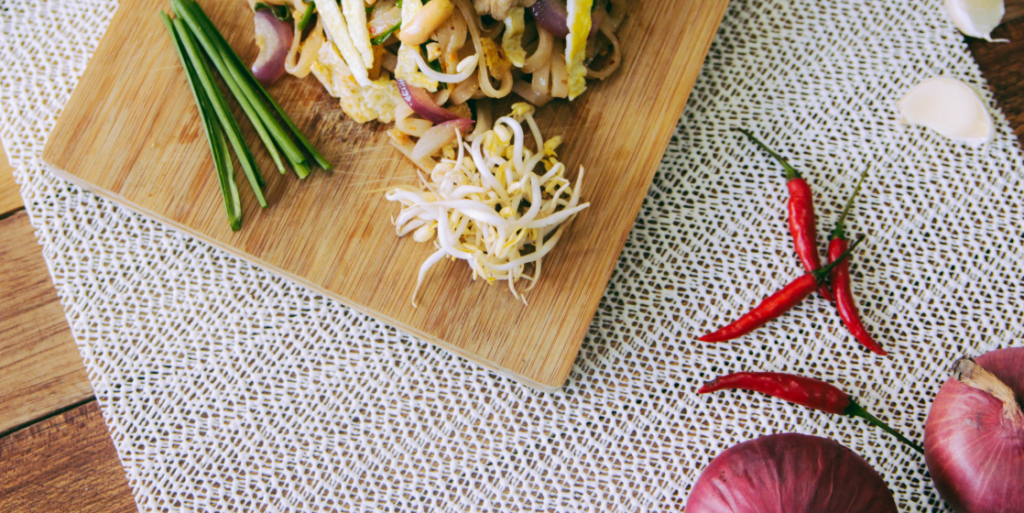 Ingredients
For the noodle salad:
1 medium courgette (spiralised)
1 carrot (spiralised)
1 handful of beansprouts
¼ Red cabbage (finely sliced)
1 Yellow peppers (finely sliced)
4 Spring onion (finely sliced)
1 small bunch of coriander (chopped)
1 red chilli (finely sliced)
1 tbsp sesame oil
For the sauce:
75g Sunflower seeds (soaked overnight)
200ml coconut milk
1 lime, zest and juice
1 tsp ginger, grated
1/2 garlic clove
1 tsp ground turmeric
1 tsp apple juice concentrate
1 pinch of salt
For the garnish:
1 tbsp sunflower seeds
1 tbsp pumpkin seeds
2 tbsp tamari
2 tsp dried dulse sprinkles
Préparation
The unofficial dish of Thailand, this light, healthy spin on pad Thai uses raw vegetable noodles instead of rice noodles.
Method
To make the dressing put the drained sunflower seeds, coconut milk, ginger, garlic, turmeric, apple juice concentrate, lime and salt into a blender and blitz until smooth and has the consistency of double cream. Taste for seasoning and place one side.
Next, it's time to make the crunchy seed topping. Place a pan on a medium / low heat, add the sunflower and pumpkin seeds and gently toast for 3-4 minutes. Add the dulse followed by the tamari, the tamari should instantly bubble and reduce in the heat of the pan to coat the seeds and create a salty seasoning. Once the tamari has all dried up put the seeds in a bowl and leave to cool.
Place all of the vegetables, coriander and sesame oil into a bowl and mix well.
To serve coat your bowls with a layer of dressing, tilting the bowls to cover the entire inside of the dish. Now divide the prepared vegetables into the bowls and top with the toasted seeds.
Publication date: 8 October 2019
This recipe is proposed for the commitment(s):
Choose local, seasonal and organic vegetables
Have dairy-free days
Introduce vegetarian meals
Make your own meals