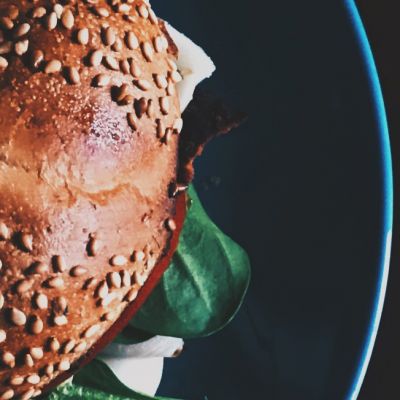 Ingredients
1kg millet
2.5ltrs water
1kg red onion
35g dried thyme
2tbsp garlic puree
150g dried forest mushroom
300g pumpkin seeds
120g carob powder
150g tamari
100g balsamic vinegar
2tbsp ginger powder
2tbsp cumin powder
4tbsp yeast extract
4 grated carrots
Préparation
Burgers don't have to be off the menu if you're planning a healthy meal.
Mushrooms are similar in taste and texture to meat when cooked, so they are the perfect ingredient for a vegetarian burger that everyone will enjoy.
Bring the water to the boil and add the millet. Cook, occasionally stirring until all of the water is absorbed. Take off the heat, cover the pan with a plate and put to one side.
Finely chop the red onion and gently fry in a little olive oil with the thyme and garlic. Once fried, remove from the pan and place in a large bowl.
Blend the seeds and mushrooms in a blender and add to the bowl of fried onion.
Add the carob, ginger, cumin, tamari, balsamic vinegar, yeast extract and grated carrots to the bowl on friend onion and mix well.
Add the millet to the mixture and mix well.
Line 2 large baking sheets and brush with a little olive oil.
Using a chefs ring, mould the mixture into burgers and place on the baking tray.
Cook at 180°c for 30 minutes. Turn the burgers and cook for a further 10 minutes.
Serve with a granary bun (or your choice of bread), mixed salad and your choice of sauce (salsa and chilli sauce work particularly well).
Publication date: 12 November 2019
This recipe is proposed for the commitment(s):
Choose local, seasonal and organic vegetables
Don't waste bread
Introduce vegetarian meals
Make your own meals
Reduce your food waste