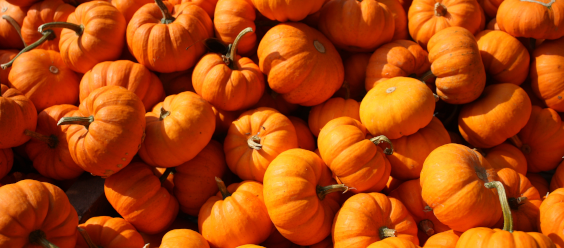 Ingredients
½ medium pumpkin (skinned, deseeded and cut into 1cm chunks)
1 white onion (finely sliced)
½ carrot (chopped)
1 stick of celery (chopped)
2 sprigs of Rosemary
1 tbsp of olive oil
1 tsp of fennel seeds
3 cloves of garlic (finely sliced)
½ red chilli (finely sliced)
Salt & pepper (to taste)
Préparation
More than 8 million pumpkins – equivalent to 18,000 tonnes of edible pumpkin flesh – will be heading for the bin this Halloween because the majority of consumers will not eat it. Instead of wasting these wonderful winter vegetables with our easy Pumpkin Soup!½ medium pumpkin (skinned, deseeded and cut into 1cm chunks)
METHOD
Start by finely chopping the onion, celery, carrot, chilli and garlic.
Place a saucepan on a medium heat, add the olive oil, chopped vegetables and fennel seeds.
Cook down slowly for 10 minutes.
Peel and chop the crown prince squash into 1cm squares, place in the pan.
Add the water and boil for 10 minutes.
Remove from the heat and use a stick blender to blend until smooth.
Season to taste with salt and pepper.
Ladle soup into bowls and serve with crusty bread!
Publication date: 24 October 2019
This recipe is proposed for the commitment(s):
Challenge: 7 vegetarian meals per week
Choose local, seasonal and organic vegetables
Introduce vegetarian meals
Make your own meals
Reduce your food waste