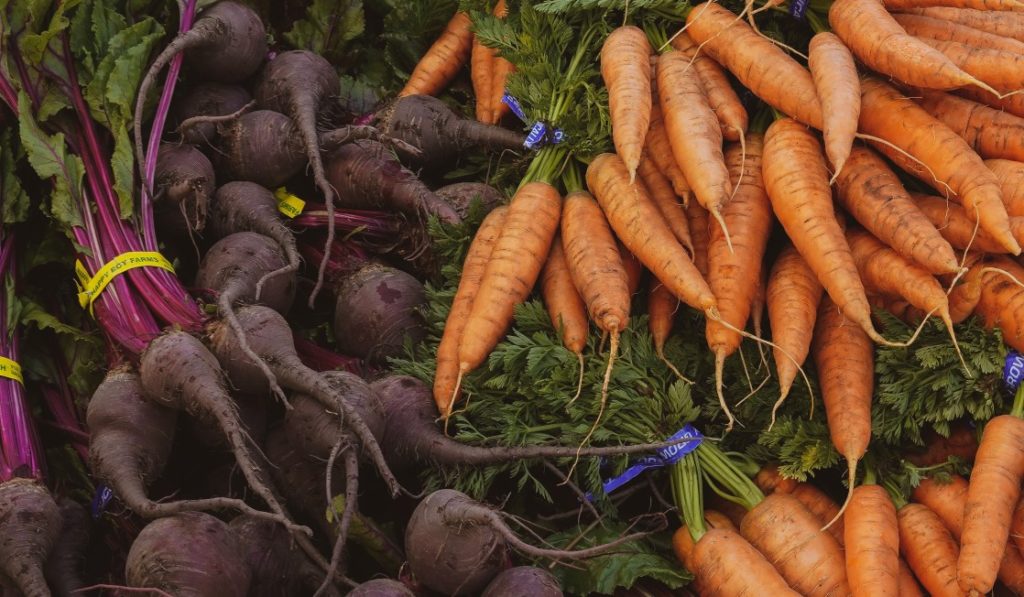 Ingredients
1 small parsnip
1 carrot
1 small sweet potato
¼ small celeriac
1 bulb of garlic
1 tsp yeast extract
4 sprigs of thyme
2 sprigs of rosemary
150g bulgur wheat
1 large red onion
2 tbsp sultanas or raisins
½ tsp ground cinnamon
1/2 tsp ground ginger
½ tbsp mild curry powder
1 small bunch of parsley
Olive oil
Salt and pepper to taste
Préparation
This delicious vegan meal is a great cold-weather salad. The ingredients are cheap and come together to make a delicious plate full of flavours and different textures.
Preheat the oven to 200◦c and place a roasting tray on the top shelf.
Wash and peel all of the root vegetables and cut into a 2cm square dice. Place the chopped vegetables into a mixing bowl
Cut the head off the bulb of garlic and add to the mixing bowl along with the vegetables. Next, add the rosemary and thyme.
In a small cup, mix the yeast extract with 2 tbsp of olive oil and add to the vegetables along with some salt and pepper.
Carefully take out the oven tray and add the vegetables. Place the baking tray back in the oven for 40 minutes or until the veg is golden and tender.
While the vegetables are cooking it's time to prepare the bulgar wheat. Pour the wheat into a mixing bowl and add 300ml of boiling water. Cover with a plate and leave to steam in the same way as couscous.
Peel and finely slice the onion. Heat 1 tbsp of olive oil in a frying pan on a medium heat and add the onion. Reduce to a low heat and slowly cook the onions for 5 – 10 minutes.
Once the onions have been cooking for 5 minutes add the sultanas. Next, add the spices and cook for a further 2 minutes.
Remove the plate from the bulgur wheat and fluff up gently with a fork. Now add the onions and spice mix and finally the chopped parsley.
Mix well and spoon onto individual serving plates or one big one for people to help themselves.
Remove the vegetables from the oven once cooked and alongside the bulgur wheat.
Publication date: 20 November 2019
This recipe is proposed for the commitment(s):
Choose local, seasonal and organic vegetables
Introduce vegetarian meals
Make your own meals
Reduce your food waste